Mossberg MVP Forum
Hey everyone. New guy here on this forum. Got a 5.56 patrol in jail in the Peoples Republik of Kalifornia and excited to find this forum. Looking forward to learning about these fine rifles from you good people.
About to order a scope mount for the mvp patrol. What is the right larue qd mount to get? Looking for a 4x scope.
Hi Guys, new member here with a feed issue. I recently picked up a used .308 MVP Patrol and when attempting to test fire it I discovered it won't feed. The bolt goes right over the top of any loaded rounds with out stripping them out of the magazine. It does this with the factory 10 round mag and a 20 round DPMS style mag also.

Any suggestions?
I wanted to post my results from sighting in my new MVP Predator in 5.56. The Leupold TMR Firedot G works like a charm. I mounted it with an EGW rail and Brownells Tactical rings. After moving the groups down about 6" I managed to get a 1" group at 100 yards. It's really a sweet rifle and I couldn't be happier. After reading some of the posts about the abysmal accuracy I was pretty worried....
Hey guys, I bought the 5.56/.223 MVP with the 18.5" barrel a few months back and have been very impressed with the gun. I am now considering buying a 308/7.62 MVP in the predator model and would like some feed back on the different barrel legths, as I am unsure which one to go with. I love the 18.5 in my .223 for its compactness, I use it mostly as a walking varminter. The .308 would be used...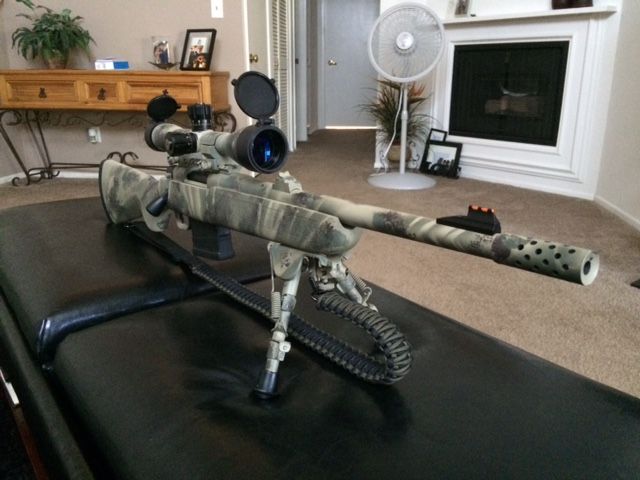 Wanted to share my new MVP Patrol .308 I recently picked up at my LGS. Ive been wanting to get into some Coyote hunting and I was wanting something smaller, more agile, for hiking up into the hills around So Cal. The MVP Patrol was a perfect solution! So far I've added the Badger tactical bolt knob, Bushnell Elite 10x40 mil-dot scope, Caldwell 6"-9" bipod, a Slipstream Precision muzzle break...